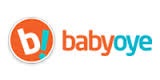 Babyoye coupons & Today offers
---
Babyoye promo codes for Wednesday, September 20, 2017
Babyoye: A bit different from the others
After a baby is born, parents often do not get the time to go out and explore various products for their little one. Wouldn't it be better, then, to shop and explore from the comfort of one's own home. This is where babyoye.com steps in. Babyoye.com aims to help customers make shopping a walk in the park for parents who are loaded with various responsibilities and can't find the time to make extensive shopping trips.
Offerings
Babyoye.com has a wide variety of toddler and maternity related products, and has 11 different categories, each covering a massive selection of good quality products. These categories include includes baby wear, feeding and nursery, bath and health, shoe wear, toys, books, nursery items, baby related gear, school products, as well as birthday gift items. Each category clearly outlines whatever is available under that product so that parents do not find it difficult to navigate the online store.
Brands
Each category not only specifies various product types but also lists down popular brands pertaining to that category. As an example, the bath and health category contains Farlin and Johnson & Johnson as some of its popular products. This verifies to customers the fact that every product that is being sold on the website is authentic and is of good quality, and is being sold whilst keeping the child in mind.
Babyoye and its customers
Babyoye.com prides in its customer service and product offerings, as it keeps the parents and their limitations in mind. That is why it offers regular sales to the customers, which vary from time to time, but usually are up to 70% off. Moreover, the website offers a tab where the customer can shop by age, thus adding more customization to the whole shopping experience.
Conclusion
The website offers Babyoye discount coupons and Babyoye coupon codes. This makes the shopping not just affordable, but much more pleasant as well. So whenever you want to shop for your child and do not want to go through the hassle of physically making the effort of going to various shops, head over to babyoye.com and be sure to utilize the babyoye coupons.
Checkout others related offers:- Firstcry Offers and Hopscotch Offers