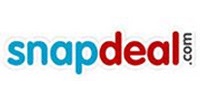 Snapdeal coupons & Today offers
---
---
Snapdeal promo codes for Tuesday, May 31, 2016
The Real Modern Retail
Now a day's there are a huge number of online dealers, each with its own articulated benefit to consumers. Though, there are few that truly make the experience easy and convenient for the customers that visit the sites. However, this might not be the case with Snapdeal.com, which works purely on a consumer oriented system, has been operating since five year ago as one of the top online retailers in India, and has its presence in almost every city.
Categories
The products are divided in to 10 broad categories. These categories cover everything; from electronics to baby products to sports products. These product categories include:
• Mobiles & Tablets(Apple iphone, Nokia, Samsung and lenovo. Exclusive Brands: CoolPad, Infocus, Intex, Karbonn, Meizu, Micromax, Xolo, Datawind )
• Cameras & Accessories: (Canon, Nikon, Sony & More)
• Computers, Office & Gaming (Apple, HP, Lenovo, Dell, Samsung, HCL, Asus, Acer, Toshiba and MSI)
• Electronics (Brands: Sony, Samsung, canon, Nikon, JBL, Apple, xiomi, Intel, LG, Whirlpool, Philips)
• Home & Kitchen- Bajaj, Philips, pigeon, prestige, pureit, wonderchef, hindware, Panasonic, Crompton, kaff,    cello, borosil, Hawkins, Tupperware, Bombay dyeing, fabindia, swayam, trident etc.
• Women's Fashion- Catwalk, asics, skechers, inc.5, reebok, nike, adidas, puma, American swan, lavie, biba, rangriti, chhabra555, fabdeal, only, wills, numerouno, bwitch, jockey, wrangler etc.
• Men's Fashion- Jack & Jones, john players, mufti, lee, arrow, kappa, celio, ucb, puma, reebok, converse, lotto,      gas, nike, adidas, fossil, guess, titan, timax, tissot, rado, fastrack, ray-ban, mtv, levi's etc.
• Toys, Kids & Baby Products- Graco, Luvlap, chicco, meemee, fisherprice, sunbaby, united colors of Benetton, gini & jony, shoppers stop, oye, pampers, mamy poko, Himalaya, johnson's, pigeon, chicco etc.
• Books, Media & Music
• Sports, Health & Food
• Real Estate & Financial Service
• Automotive
What's surprising is that the store also deals in (what the web site calls) branded real estate, and financial services as well, which proves that snapdeal.com is open to diversity, which is one of the sites core values.
Brands
It can be said without a doubt that the products on snapdeal.com are 100% genuine and authentic. The website deals exclusive in genuine brands such as HP and Sony where electronics are concerned, United Colors of Benetton for clothes, Catwalk for shoes, HTC for tablets, and whole lot more. Scamming their customers is out of the question, as one of the five principal core values of snapdeal is "Honesty", where they promote transparency and doing the right thing, no matter what the circumstance.
Deals at a snap!
The website offers daily deals known as 'deal of the day' and varies from product to product. On top of that, the website is offering snapdeal promo codes on different products like headphones, bed sheets, handbags, memory cards & Pen drives, bean bags, wallet & bags and so more. These Snapdeal coupons vary from time to time, and can be availed any time. Snapdeal also provides discount offers on HDFC bank, icici bank, citibank and Axis bank credit/debit cards. This aids shoppers in making purchases whenever they feel like it, and removes the barrier of thinking before purchasing by allowing them to fulfill their shopping needs anytime they desire.
Related online Offers: Paytm.com, Flipkart.com, Amazon India, ebay.in and Jabong
Customer Support:
Snapdeal customer care toll free number: +91 92126 92126
Email: [email protected]