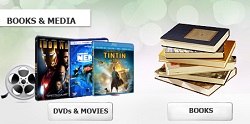 Books and Media coupons & Today offers
---
Books and Media promo codes & discount coupons
Books & Media – For Gaining Unlimited Knowledge...
There are so many portals that can help you to get your desired books online.
Whether it is a fiction, non-fiction, business books, examination preparation books, magazines, eBooks or anything else, there is so much in these portals to explore, read and learn!
8 Most Popular Portals in India
From books to media, you can grab your favourite one from India's largest online shopping site, Flipkart.
The best part about Flipkart is that you can get them at the best deal price.
For people who has a knack of reading, this portal has a pretty big collection of books in many languages.
You can't just buy the books available on this site, you can rent them too according to the time span you need it for.
From academic to non-academic books, you just name the books and they have it all for you in store.
From bestsellers to the business sector, its library comprises of books that are from the top authors.
If cost of new published books is not affordable for you then this is a portal dealing in pre-used novels.
You can purchase any used novel for just Rs. 99 from here regardless of the actual price.
Be it new books for management exams and competitive exams, or you simply want to buy old books, everything is available here.
You can get new books from this portal in discounted rates of up to 35%.
You can buy both new and used books on different genres on Amazon at a price that you never thought before.
One can also sell books & media without any listing fee at all.
When it comes to selling of eBooks then there is no better option than this online portal.
You can just create an account and sell off your eBooks globally and earn royalties upto 70%.
This site helps you prepare for any type of exam you are appearing for by helping you practice, analyze and improve.
Here you can start up for free and can get personalized performance analysis.