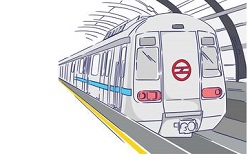 Metro Recharge coupons & Today offers
---
Metro Recharge promo codes & discount coupons
Coupondekho has the Best Discounts and Cash Back Offers for Metro Recharge
Metro Railway has turned out as one of the most effective and convenient means of transport at present. It was first introduced in the city of Kolkata, and then in the other major cities like Delhi and Mumbai. Every day, Metro rail carries millions of passengers in these 3 cities. If you are a Metro rail then, at times it can be quite difficult to get hold of the tickets or to recharge your Metro cards due to such a rush. This is where the online recharge services come into the picture. Service providers like PayTM and Freecharge allow the users to recharge quickly and easily. And the best thing is one these recharge you can also get some discounts which will lower down the cost of travelling as well. Wondering from where to grab such Metro Card recharge offers? This page of CouponDekho is the right place to check those out:
CouponDekho with Its Exhaustive Coupons
Well, this website has some of the most attractive discount offers from these service providers in store for you. Here are some of the reasons as to why they are the best option for you when it comes to metro recharge:
Number of offers: This site has a collection of huge number of different types of offers from more than 1 service provider who gives facility to recharge your Metro Card. These offers allow you to avail attractive discounts on your metro recharge.
All under the same roof: This is one place where you will find discount coupons and promo offers from different portals under the same roof. This site has all the options readily available for you.
Save Money: The fact that this site has different discount offers from more than 1 portal, gives you access to multiple different types of offers which helps you save a lot of money on your recharge.
Best Metro Card Recharge Websites Offers You Can Avail Here
PayTM: The services of PayTM for Metro Card recharge can be availed for Delhi as well as Mumbai Metro. It has a wide range of different types of recharge coupons to offer. You can avail flat cash back of Rs. 20, Rs 25, and up to Rs 50 on your recharge. There are also coupons which enable you to avail 100% cash back on every hour.
Freecharge: Freecharge is another portal they are associated with. Freecharge can be used only for Mumbai Metro. Considering the rush in Mumbai Metro, Freecharge has become very popular as it not only enables to recharge your Metro Card more easily, but also offer cash back offers which can be as much as 50% at times!