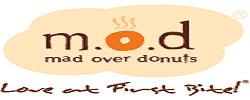 Mad Over Donuts coupons & Today offers
---
Mad Over Donuts promo codes & discount coupons
Mad Over Donuts is popular brand for Donuts. MOD stores are available in Mumbai, Noida, Pune, Hyderabad, Jaipur, Gurgaon, Bangalore and Delhi. It offers bites, box of happiness, choco bomb, cool blue ice, classic box, donuts, gift pack and so more. You can order donuts online from MODdelivery, Swiggy, foodpanda and Zomato. For cashback, you can use Paytm offers to order donuts online.
Mad Over Donuts coupons, cashback offers and discount promo codes
| Offer | Promo code |
| --- | --- |
| Buy 6 donuts | Get 6 free, code:F66B |
| Buy 3 | Get 3 free donuts |
| Buy 9 Donuts | Get 3 free |
| Paytm offer | Get 30% (up to Rs 200) |
True to its name "Mad Over Donuts" would let any donut lover go crazy with the creamy, chocolaty delight of its own. It is no wonder that MOD which started as a small donut brand in Singapore has made it big in the global world, with stores in all major metro cities of India.
What flavors are available in MOD donuts?
The most sold donuts at "Mad Over Donuts" stores are:
Choco Bomb

Cookie Overload

Tiramisu

Mocha truffle

Brownie Crumble

Chocolate therapy

Salted Caramel

Choco Loco – Homemade sugar glaze with desiccated coconut dressing

Cool Blue Ice – Blueberry compote topped with sugar icing

Divine crush – Dipped in mild chocolate and topped with Gems candy

Rainbow Surprise – with white chocolate and colored topping

Original sin – Milk chocolate dressed in white chocolate

MOD "My Original Donut" – Classic flavor with sweet glazed coating

Midnight beauty – dark chocolate laced with white chocolate

Dark night – crushed Oreo cookies on white chocolate

Cinnaster – sugar and spice combo with cinnamon sugar

Perk me up – Dark and white chocolate, coffee buttercream with coffee bean

Chocolate decadence – All with dark chocolate filing and topping

Double trouble – Milk chocolate with white chocolate, filled with dark chocolate

Spice surprise – Chili and cheese combination
In addition, you can "suggest your own flavor" which will be tried and tested by their chefs. You could also get a chance to hear back from them, if they like it.
A Gift for your loved ones:
"Box of Happiness" is a gift of donuts with a personalized message that you want to put to let your loved ones cherish the donut pleasure while remembering and thanking you.
What are the other eatables available at "mad over donuts"?
Some of the other mouthwatering retreat at MOD are:
Bites – These are small bite sized gourmet donuts available in multiple flavors

Cakelings – These are cupcakes available in flavors such Rich crumble, berry bliss, strawberry chocolate, Nutella frost, lemon swirl, coffee cream, chocolicious

Beverages -These include Coffee (served iced or hot), Milkshakes (Chocolate, mango, strawberry), MOD special shakes (with cookies , kit kat , Oreo), Tea, lemonade and coffee combo
What are the Deals and offers available at "Mad over Donuts"?
They have an MOD sweet rewards program, where you accumulate points on your orders at MOD and redeem it later at any of their stores.  For additional savings, you can check the "Mad over Donuts" Deals and offers page at CouponDekho and use any coupon, promo code or discount voucher available here.