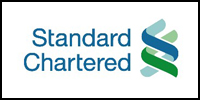 Standard Chartered coupons & Today offers
---
Standard Chartered promo codes & discount coupons
About Standard Chartered Bank
It is the multinational banking and financial service company that has its headquarters in London, UK.  It has its operations in more than 70 countries.  It offers its services mainly in personal, corporate and institutional banking.
How can I open my account in this bank?
If you have the accessibility to the branch then you can directly visit there to open the bank account otherwise you can apply online.  Just look up for the Standard Chartered Bank apply online and fill the form with your Aadhar card details. Thus, you will be able to open your bank account instantly with the help of OTP.
What kind of investment options are provided by the banks?
To make your investments easier and convenient, Standard Chartered Bank offers various investment options. It provides portfolio management, mutual funds, hedging instruments, tax saving funds and many more. Investors are required to consider their purpose of investments to get the maximum returns. 
What is Super Value Titanium card?
It is the credit card offered by Standard Chartered Bank. If you are aged between 21 and 65 and have the stable monthly income then you are eligible for this card.  To get this standard chartered bank credit card, you have to ensure that you are eligible and provide the documents like Identity proof, address proof, passport size photograph and last month's salary slip. Within a few days of application, your credit card will be delivered to you. The maximum limit of individual owners depends upon the income and the credit history.
What are the benefits that you can get with Standard Chartered Bank account?
 There are so many benefits of using this card for making payments. You can get various discounts and offers on making payments through this card. While making the payments online with the help of credit card by this bank, you can avail discounts on goibibo, utility bills and many more things. The grace period is depended upon the billing cycle.  This credit card can be used overseas however for that you may have to pay the processing fees of 3.5% per transaction.
Standard Chartered Bank Visa Card provides offers on Jabong, dining, hotel, entertainment, domestic and international flight booking, mobiles.  On the purchase of products from Naturals Unisex Salon and Spa, purchasing products from grofers, Flipkart, dominos etc. you can get attractive discounts.  Book table in some selected restaurants in Delhi, Mumbai and Bangalore and make payment with this card to get attractive discounts.
 How can I make the payments for the credit card?
It is very easier for the individuals to make the credit card payments through several ways. You can pay through internet banking, NEFT, cheque and draft, standard chartered bank billdesk, Visa money transfer and on the counter payment.  This gives you an ease to make the payments for your credit card.
How can I manage my payments through standard chartered bank?
Standard Chartered UPI app is there to help you in managing your payments. Virtual payment address can be created to start making payments. It also enables QR code based payment solution to make it easy for the users to make all the types of payments.  Just get registered for QR payment and scan the bharat QR code for payments. Samsung Pay option is also there to make the payments with peace of mind. It allows the users to add the card by scanning the card and then enter your card's information manually to make payment instantly. Depending upon your convenience, you can use any kind of payment.