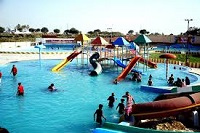 Theme Parks coupons & Today offers
---
Theme Parks promo codes & discount coupons
Where and which ones are the top 9 amusement parks in India?
Amusement parks just like their name are amusing! They not only make sure you have a fun-filled day; they also bring a refreshing change to your otherwise mundane routine. No, amusement parks are not synonymous to small kids or children, there are innumerable rides specifically designed for adults FYI! Amusement parks include adventure, theme and water parks.
India is a densely populated country having all types of age groups and people! No points to guess that the nation houses plenty amusement parks. You may not know about the best ones though! Let us help.
Here in this article, we will tell you about the top 9 amusement parks in India, which should definitely be on your parks-to-visit list. Come, dig in deeper!
Adlabs Imagica and Aqua Imagica:
Situated in Khopoli, Maharashtra, Imagica is an amusement park that opened in 2013. It spreads over 300 acres of land and has five themed restaurants and more than 25 themed rides. It is the only theme park in India of international standards. Apart from enjoyable rides, both land and water (Aqua Imagica) based, you also get yummy food and a place to stay here!
Wonderla Amusement Park:
With its breath-taking beauty and fun-filled and adventurous rides, Wonderla in Bangalore can easily be said to be one of the most happening parts of the city. 12 out of the 50 rides are water based, and none of them would fail to impress you! The rain disco is one of their main attractions. You can also reside in the resort available in the premises of the park.
Essel World and Water Kingdom:
Located in the outskirts of Mumbai, Essel World is one of the most popular theme parks in India. The water kingdom spreads across 64acres of land and has a number of enjoyable rides. The amusement park has more than 71 fun-filled rides. The ice-skating rink and the bowling alley available here have become a hit amongst the masses quite fast!
Queensland Theme Park:
Spreading across 70 acres, the Queensland Theme Park is housed in Poonamallee, Chennai and is perfect for a fun day out with family or friends! The Queens Land Fairy Train, the Free Fall Tower and the Roller coaster are the most popular rides here. In total, you will find over 51 rides in this park that are thrilling, fun and adventurous at the same time!
Maniar's Wonderland:
Housing a number of funky rides, Maniar's Wonderland is an amusement park located in Sarkhej, Ahmedabad. The best part about this place is the snow park where you can beat the heat during summers like a boss, or simply dip into the pool and play with water in the family water park. Joy trains, aqua roller, desert bike, buggy rides, zip lines are some of the main attractions here.
Nicco Park:
With over 35 attractions and rides, Nicco Park is an amusement park situated in Salt Lake City, Kolkata. Did you know people popularly call it the 'Disneyland of West Bengal'? The major attractions are the river caves, toy train, Giant cyclone, cable cars, Eiffel tower, and the vast food park offers a variety of cuisines. There is also a water park called 'Wet-O-Wild' for the water activities' lovers, and a bowling alley available for the ones who want to enjoy bowling inside the park!
Veegaland Amusement Park:
Now rebranded as 'Wonderla', Veegaland Amusement Park is situated 14kms away from Kochi and is spread over an area of 30 acres. With over 50 adventure-filled rides, your experience here is surely going to be fun as well as hair-raising at the same time! The park also has water rides for the water babies! It has a vintage castle meant for children and a vintage tornado, which is the most popular ride here. There is also a musical dancing fountain for your entertainment.
Worlds of wonder:
Nestled in Sector 38A, Noida, and owned by Entertainment City Limited, Worlds of Wonder is a beautiful amusement park and water park, which you cannot afford to miss. It houses excellent rides, go karting and other fun activities meant for all age groups. For the water park that has 21 slides, lazy river and a wave pool, you can get costumes on rent.
Ramoji Film City:
Having a combo of both artificial as well as natural attractions, Ramoji Film City with an area expanding 1666 acres in Hyderabad hosts live shows, has an adventure park, bird park, an eco-zone, and also includes an amusement park with rides that has a theme based on Bollywood. It is open between 9 am to 5.30 pm. Visitors are encouraged to visit this place especially if they are big movie buffs as the shooting of hundreds of cinemas take place here every year.