Blog
Top 10 Refrigerator Brands in India to Look Out for 2018
---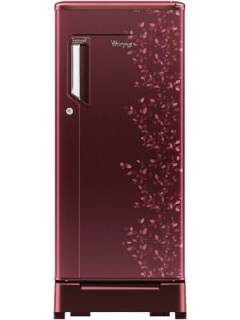 ---
Top 10 best refrigerator brands in India
A refrigerator is probably the most important kitchen appliance you need during the scorching Indian summers. It can keep your fruits and vegetables fresh for days to come and also store leftover food so you don't need to cook for every meal. Non-vegetarians would absolutely need a good refrigerator to keep meat and fish frozen in the cold storage of its top freezer. Wouldn't you want the luxury of a chilled glass of nimbu pani after coming home on a hot day? Your refrigerator can do all this and more.
There are a large number of good refrigerator brands in the Indian market. While picking a suitable fridge model you would need to consider everything from its type, storage capacity, your family size, their eating practices, the space in your house and your budget. So here's a comprehensive buying guide to help you through the process. First you would need to learn the different kinds of refrigerators that you can buy.
Single Door Refrigerator– This is the simplest kind of fridge with a single door as the name itself suggests. These are small in size and ideal for those who live alone, couples and small nuclear families. It contains the freezer box inside the fridge without a separate section.
Double Door Refrigerator– These are much larger in size with two doors covering two separate sections. While the lower one contains the main fridge area, the upper sections houses the freezer box. These are ideally suited for medium to large families.
Triple Door Refrigerator– These have 3 sections with a separate door for each of them. The top one has the freezer box while the bottom one has the vegetable compartment. These are great because they prevent any mixing of odor so each of your foodstuffs can smell completely fresh.
Side by Side Refrigerator– These are very large in size and have side-by side compartments like a cupboard. These tend to save on heat escape and also have separate ice and water dispensers.
Bottom Mounted Refrigerators– These have the freezer section at the bottom instead of at the top because this section is used comparatively less. It is convenient because you don't have to bend down regularly to take your fruits and vegetables out.
Now that you have a good idea of the different kinds of refrigerators you can buy, here are the top 10 refrigerator brands from which you should buy your appliance.
1) LG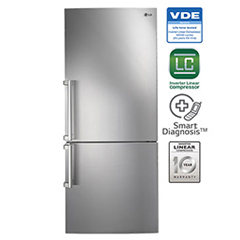 This is one of the most trustworthy brands in the refrigerator market with a large number of innovative models with latest technology. The price range starts from INR 12,000 and goes up to 1,50,000. Some of their best models are the LG 190 L Single Door, LG 260 L Double Door and LG 687 L Side-by-Side refrigerators.

2) Godrej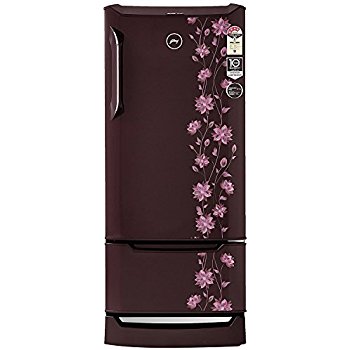 One of the earliest brands that brought refrigerators to Indian homes, it has adapted to all the latest technologies and is still one of the best refrigerators brands in the market. There are various models priced between INR 11,000 to 80,000. Most popular models include Godrej 185 L Single Door, 240 L Double Door and 255 L Double Door.

3) Whirlpool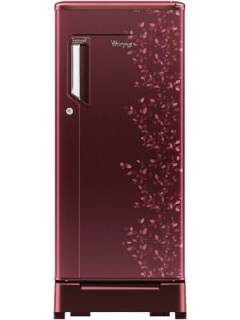 Another big player in the Indian market, Whirlpool offers a large number of models ranging from INR 11,000 to 90,000. Most popular models are Whirlpool 190 L Single Door, 215 L Single Door, 340 L Double Door, 260 L Triple Door etc.

4) Samsung
This is one of the best brands when it comes to home appliances and their refrigerators are surely ahead of the game. With numerous models priced between INR 12,000 to 2,15,000 you will have no trouble picking out exactly what you want. Top rated models are Samsung 192 L Single Door, 255 L Double door, 253 L Double Door and 545 L Side-by-Side.
5) Hitachi
This Japanese brand has amazing high-end models ranging between INR 30,000 to 2,00,000. Most reliable models are Hitachi 289 L Double Door, 404 L Triple Compartment and 456 L Side-by-Side.
6) Videocon
This Indian company has affordable models from INR 9,000 to 75,000. Best models to consider are Videocon 190 L Single Door, 250 L Double Door and 604 L Side-by-Side.
7) Kelvinator
Models are priced between INR 10,000 to 17,000. Take a look at their 190 L Single Door Refrigerators.
8) Panasonic
Models from this Japanese brand are priced between INR 11,000 to 2,00,000. Check out their 400 L Double Door, 296 L Double Door and 582 L Side-by-Side models.
9) Electrolux
This Swedish brand has great refrigerator models between INR 14,000 to 80,000. Models to look out for are the 215 L Single Door, 470 L Double Door, 370 L Triple Door and 524 L Side-by-Side Doors Bottom Mount.
10) Haier
This Chinese brand is known for its high-quality yet affordable appliances. Refrigerators are priced between INR 7,000 to 1,00,000. Most popular models are 52 L Single Door, 335 L Double Door and 565 L Side-by-Side.
---